Big Universe  This is an e-reader website that St. Lawrence School has access to. Some students have been introduced to it already. Grades 2-6 are enrolled as  of now. If you click on the website (Big Universe) use your AR username and password to access the ebooks. The group name is sls-ny. Once you have entered the site, you can click on Library and start searching for books. Happy Reading!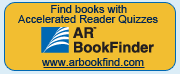 Use this site to find out if a specific book has an AR quiz.

Renaissance Learning - To log in to Renaissance Home Connect Website, click here.  Use your child's username and password to log in. If you'd like to receive emails showing your student's quiz or test results, click the Email Setup link in Renaissance Home Connect and follow the directions.

MobyMax This is a site we use at school to reinforce math skills. Students have taken a pretest to check their baseline. The program then sets itself for what the individual's needs are.

ThinkCentral - Follow these instructions to get into ThinkCentral:
     1) Click here to get to the site.
     2) Select your state (NY), district (Diocese of Rochester), and school (St.
           Lawrence). 
         * To make it easier to log in later, you can check Remember My                               Organization.
     3) Enter username and password. (sent home in Tuesday envelope 10/20)
     4) Click Log In.

Type to Learn 4  Click on this site and follow the directions to download this typing program. We use it in school. Your child can continue lessons at home. All students (2-6) have their usernames and passwords. You will need the Account code - 155035. 

World Book  Click here to do research.  St. Lawrence has an account.  You will need to login with a username and password. It is the same for both:  sls4041.

www.abcya.com - This is fun, educational website for all ages, even though it says Pre-K through 5! Take a look when you are looking for something to do!

Hour of Code - In December,  we participated in the Hour of Code. Students started a coding tutorial in class. Of course they can continue with coding through this link:   Hour of Code.